Clearview Orthodontics - Dr. Belinda Weltman
1807 - 805 West Broadway Vancouver, BC V5Z 1K1
805 West Broadway
Vancouver
British Columbia
V5Z 1K1
CA
Meet Dr. Belinda Weltman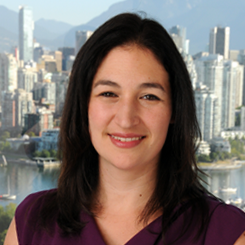 I love working in the field of orthodontics. Creating beautiful smiles can truly change and transform lives. For me, there is no greater reward than my patients completing treatment with a confidence and happiness that will last a lifetime.
At ClearView Orthodontics, we engage our patients and get to know them during their visits. These relationships are meaningful and important to us, and they make what we do every day enjoyable and worthwhile.
We like the atmosphere in our practice to be calm, friendly, and patient-centered. We want our patients to know they are well-cared for, and that their needs come first. We strive to keep our patients well informed in all aspects of their treatment. We believe that certification, training, and continuing education allows us to give our patients access to whatever care they need, in the most efficient manner possible.
Education
I attended the University of Toronto, obtaining a Bachelor of Science degree with honours in Nutrition. Then I spent some time in England attending The London School of Hygiene and Tropical Medicine where I completed a Masters of Science degree in Public Health Nutrition.
I continued on to pursue a Doctor of Dental Medicine (DMD) degree at the University of Manitoba. I was very involved in dental research throughout my training and was awarded a Bachelor of Science degree in Dentistry for my contributions.
I continued on to pursue a three-year specialty degree in Orthodontics, where I received extensive training in treating cleft palate cases in the craniofacial program, and graduated with a Masters in Orthodontics (MS) from The Ohio State University.
Continuing Education
I am deeply committed to what I have chosen to do for a living and regularly take continuing education courses both locally and abroad. I am an Invisalign Premier Provider, and a recognized Kois Specialist. I believe that in order to provide the highest level of care for my patients it is critical to stay abreast of the latest advances in my field.
I strongly believe that evidenced based approaches are essential in orthodontics, and I strive to provide the most up to date care to all my patients. My thesis was recently published in the American Journal of Orthodontics and Dentofacial Orthopedics, and I have written a chapter on the subject of root resorption for an evidence based Orthodontic textbook.
It is important that we always be able to offer our patients access to the most effective, advanced technology available. This assures real reductions in treatment time, improved healing, and the most positive smile results.
Professional Memberships
Staying active and in-touch with others practicing in my profession is one of the most effective ways to ensure my patients are receiving top-notch care.  My professional memberships include:
Member – Canadian Association of Orthodontists (CAO)
Member – Canadian Dental Association (CDA)
Member – American Association of Orthodontists (AAO)
Member – British Columbia Society of Orthodontists (BCSO)
Fellow – Royal College of Dentists of Canada (RCDC)
Director – Vancouver district dental society (VDDS)
Outside the Office
When not in the office I enjoy skiing, traveling, and cooking. The majority of my free time is spent with my husband Ryan and our three young children Aubrey, Madelyn, and Connor.


Contact Person
Dr. Belinda Weltman